Google Maps is certainly the best navigation app for iPhone and Android. Google maps app can be downloaded for free from iTunes. Google Maps provides you with turn by turn navigation which no other app can provide. There are few paid app in iTunes which deliver good turn by turn navigation but not as good as Google maps. Apple also released their own version of maps but that didn't go well. Google maps app can be installed as a third party app on iPhone 5 or other supportable versions. Being a third party app, it has some limitations in iPhone. If you have Android mobile, then you can use all features of Google maps. Let's look at important features of Google maps.
Google Maps app is available and works perfectly in all countries such as South Africa, Italy, New Zealand, India, Australia, USA and across continents Europe, Asia. It may not provide certain features for all locations but it's best than other map apps.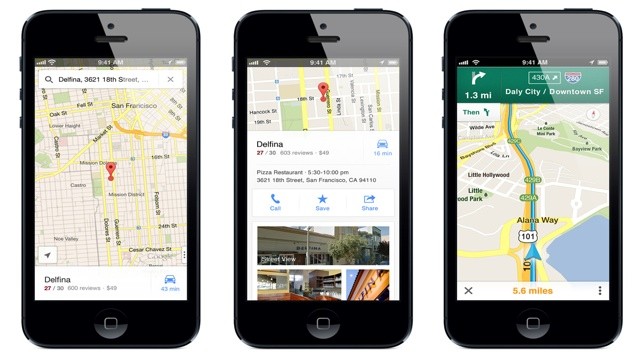 App Name : Google Maps
Price : Free
Download Link : Google Maps on iTunes
Here are important and significant features of Google Maps app on iPhone:
1. Location search is very easy in Google maps.
2. It provides free voice guided turn by turn navigation for all places.
3. Google Maps provides you the best traffic estimates at any point of time.
4. It will provide you a number of route choices to choose from starting with the best and shortest way.
5. There are enormous number of places that you can check out on Google maps in nearby locations.
6. If you ever make a mistake during your journey, it will automatically reroute you to show the right way.
7. There are 3 modes available in Google Maps that you can use. These are Walking, Public Transit and Driving. If you choose public transit, then it will show you all the buses and trains to reach your destination. You can also select timing and date. Cycling mode is in beta.
8. Google earth integration is also available.
9. You can always see what's next if you swipe ahead in your direction.
10. There are number of other features available that you will discover only when you use it.
All the features discussed above makes the Google maps as one of the best free navigation app for iPhone or iPad. However being a third party app, it has few limitations. Google maps app doesn't integrate with Apple siri and secondly it does not run perfectly in the background as Apple maps. Reason being, Apple doesn't allow other apps to use many of it's features. 
Beside these two things, Google maps is the best app that you can have on your iPhone for navigation. Normally you will find that other apps provide you with only one way of reaching your destination whereas Google maps is providing with all 3 ways i.e. Walking, driving and public transit. Cycling features is also going to come very soon. It's already in beta. Rerouting your path is also one of the best features as we normally do mistakes while driving. It will give you a new path depending upon your location so that you can reach your destination easily. If you hate traffic then also Google maps is for you. It gives one of the best traffic estimates so that you can drive through the less traffic area.
Overall, Google maps is the navigation app that you must have on your iPhone.